WR.UP® Technology - Learn about the fantastic shaping technology that makes every pair of Freddy WR.UP® unique, and every person who wears them look fantastic!
The Technology that Makes WR.UP® so Amazing
Feel gorgeous and desired, be the object of envy, always up to the task.
Wearing a WR.UP® means bringing up your curves in a natural way, rewarding yourself with an experience of femininity and sensuality you won't get along without.
Colours, washes, lengths and different details to perfectly match with every personality.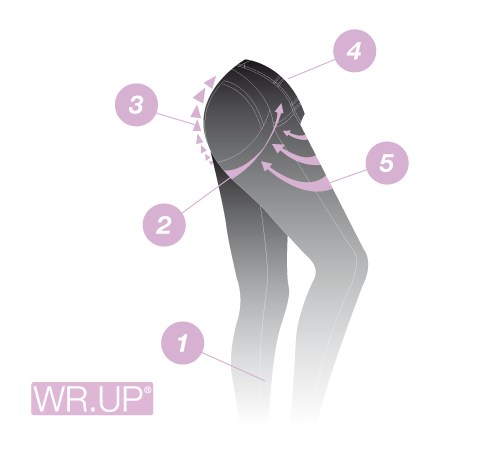 SHAPE
A customised silicone band shapes and sculpts the waistline while keeping pants up and in place.
SMOOTH
High quality fabric with the perfect amount of stretch combined with strategically placed panels provide a smoothing and shaping effect to the hips and thighs.
LIFT
Specially designed seams define the bottom while creating a supportive lift.
1 - The material used is cotton jersey, devised to obtain the utmost control and stretch.
2 - The specific anatomical shape and the various bends of the insert which covers the buttocks, create a modelling and holding effect, as well as a push up effect.
3 - The materials and type of sewing used make sure that the trousers fit perfectly while the inter-buttock groove and induce a push-up effect.
4 - Customised silicone band, which improves the waistline fit, with a further shaping effect inserted inside the belt.
5 - Extra light silicone membrane, which creates a modelling and holding effect; it is inserted inside the trousers at hip/thigh level.
The WR.UP® Secret
The exclusive WR.UP® technology enhances your femininity through a shaping and embracing action on buttocks, thighs and waist, providing a perfect shaping effect on the most delicate points of your legs.
Everything perfectly mixes and matches with the softness and comfort of jersey, an undisputed excellence of Freddy.